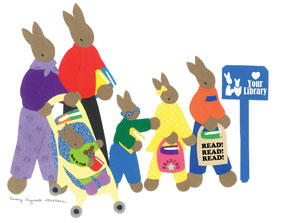 Saturday, February 13, 10:00am – 2:00pm
Join us as we take part in this national celebration! Kids of all ages are invited to a special rabbit-themed Tales for Tots. Decorate your own library totes and snacks. Challenge your child and yourself with our "I Spy Live" display. Take a family "shelfie" and post it to the Library's Facebook page and be entered to win a prize!
February 16 – 20
Staying in town over the school holiday? We'll be offering programs for kids EVERY DAY. Stop in and join the fun! All programs are ages 5 and up.
Wednesday, February 24, 6:00 – 8:00pm
Ideal for ages 10 and up. All materials will be provided. Learn the basics of the fun and easy craft and leave with a project to finish at home!
Dot and Dash the coding robots!
Remember, Dot and Dash the coding robots are available for checkout for use in the Library! These educational toys teach your child the basics of computer programming in a friendly, visual format. For children ages 5 and up. Children ages 5-10 must be accompanied by adult to use Dot and Dash.
Tales for Tots Story Hour
Saturdays at 10:30am
Join us for stories, songs, and occasional crafts. No reservations necessary and family groups are encouraged to attend!
Cleaning out your closets?
We'd love donations of the following: Legos for our new Lego Club; Children's DVDs (don't worry if they're scratched– we can repair them!);
Craft Supplies (especially yarn, beads and buttons!)
Our Fiber Optic and Wireless Service
Our in-house network and wireless access now operates at super-fast speeds due to our fiber optic connection. Bring your own laptop, or use one of our public access computers. Internet Use Policy
Dates & Events