The John G. McCullough Free Library was built in 1920-21 by Eliza Hall Park McCullough in memory of her husband, John G. McCullough, a former governor of Vermont, legislator, and businessman. The two-story brick building, designed by New York architect J. Lawrence Aspinwall of the firm Renwick, Aspinwall & Tucker, was a gift to the community and has served as a hub of village activities for more than eight decades.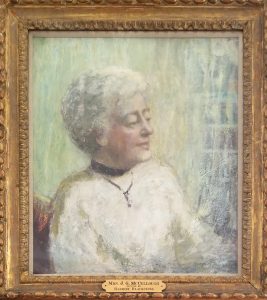 Eliza McCullough,  painted by Harriet Blackstone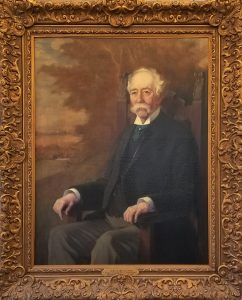 John G. McCullough, painted by his daughter Ella S. McCullough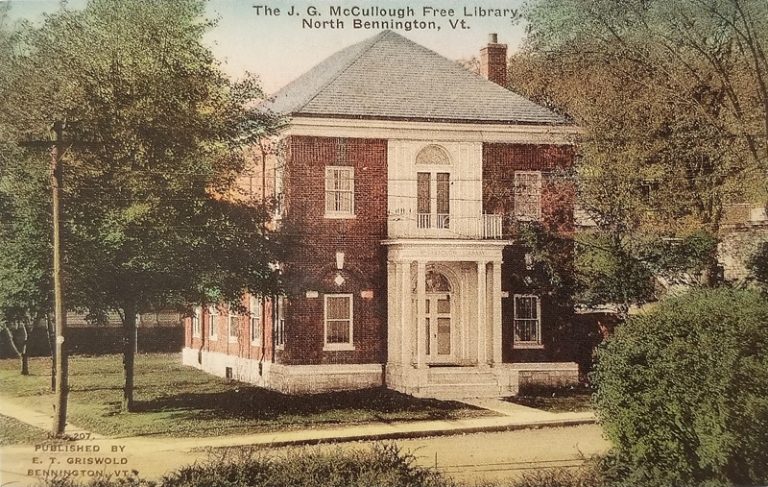 Postcard of John G. McCullough Free Library by E. T. Griswold, 1920
When the library opened on August 24, 1921 the adult and children's collections of about 5000 volumes (with a capacity for 9,000) were housed on the first floor; the second floor was entirely given over to public meeting spaces. Over the years the collection has grown to more than 20,000 items of all types, ranging from CDs, DVDs and videos to books, games and puzzles. The children's collection now occupies the entire second floor and public access terminals and the reference section now occupy the alcove space that once accommodated the children's library.
The McCullough Free Library was not the first library in the village of North Bennington. In 1878 the North Bennington Ladies Library Association was formed, charging members $1.00 a year to belong. Money to buy books was raised by donation and entertainments sponsored by the group. The collection was housed in various members' homes over the years. By the late 1890s the group was receiving a modest amount from the village coffers, and in 1900 it was decided that the association would no longer charge dues, but rather become the North Bennington Free Library. The library was sustained by donations and tax dollars, but had no permanent home until Mrs. McCullough donated the present building in 1921, when it became the John G. McCullough Free Library.